This blog eloquently describes the unknown habits that worsen acne.
Acne, pimples, rashes, blemishes – you must be tired of complaining about your skin? But have you ever listened to your skin complaints? If not, then this is the time to understand that your skin type is unique. So, naturally, your skincare regimen claims attention. 
Acne, pimples, or pigmentation are skin conditions that usually occur due to sensitivity, or harsh chemicals present in cosmetic products. But what if there is still a loophole in your skincare routine and you are unaware? Skin problems also pop up when you have unknown habits that can worsen your acne or pimples. Let's hear out what those nifty tips are!!
Unknown Habits That Worsen Acne:
Bad habit #1
Washing your face too often might be dangerous for your skin. If your skin is prone to acne, better not use excess face wash as it can worsen the condition of the acne. Use your face wash twice a day, in the morning after waking up and at night before going to bed.
Also Read: 10 Tips on How To Treat Acne Naturally
Bad habit #2
Be mild with your skin when you are scrubbing. Gentle exfoliators are apt for acne-prone skin. Harsh scrubbing strips your skin of natural oils and other nutritious elements. Choose to make your exfoliator at home with natural ingredients. This will especially benefit your skin type. Stay away from chemicals that can worsen your skin conditions.
Bad habit #3
Use neat washcloths to dry your skin. Damp washcloths can help build bacteria on your skin. If you are using electric brushes or loofahs or scrub pads, then be careful. Regular use can cause minor tears in your skin. This enhances the chances of irritation and inflammation.
Also Read: Top 8 Sensitive Skin Care Tips For Summer
Bad habit #4
Do you have the habit of picking and popping pimples? Never do that. We know that no one wants to pamper acne but while you are popping it, you are pushing the blockage downwards. This results in forming scars on your face.
Bad habit #5
Please watch out for the right diet. Too many sweets or too much starch can cause acne indirectly. A healthy diet is a key to beautiful skin. Drink a minimum of 8 glasses of water to detoxify your body. If your bodily functions are alright, your skin will naturally glow. Be careful about your diet and drinking. Your skin health will automatically improve.
Bad habit #6
Suppose you are badly sweating out but feeling too exhausted to clean up your face? We compel you not to do this. Don't let sweat settle on your skin. Sweat contains bacteria and this might lead to causing acne and pimples. Wash your face or opt for bathing once you come down from the scorching heat.
Also Read: Top 5 Benefits Of Scrubbing
Bad habit #7
Another bad habit can contribute to diminishing your skin health. Do you keep your hair products away from your skin? It's necessary. Be careful that your hair sprays, hair gels, or hair serums are kept away from your skin contact. They can clog your skin pores and cause acne.
Bad habit #8
Stay aloof from cosmetics containing harsh chemicals. Understand your skin type first and then determine what to put on. If you have sensitive skin, try home remedies, or visit a dermatologist. Try avoiding cosmetics as much as possible.
Also Read: Top 7 Secrets Of Age-Reversal
Bad habit #9
Figure out if dandruff is bothering you. Dandruff can be another significant reason for causing pimples or acne. Make sure you follow a proper hair care routine and fix the skin problems caused due to dandruff.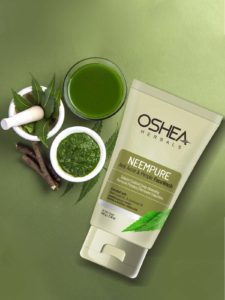 Also Read: Top 10 Summer Skincare Secrets
So, ladies, this list talks about the blunders we make every day unknowingly. Do you find anything in common? If yes, this is high time that demands change. Desert these nasty habits but remember these nifty tips. Fortify your skin against the worst acne. Visit the Oshea Herbals website for more interesting beauty tips.