Today's blog will unveil the top 7 secrets of age-reversal mystery.
Every woman longs to drink the elixir of immortal youth, but what retains an aura of mystery are those magical ingredients that contribute to your long-lasting beauty. Despite drastic changes in beauty regimen over the decades we have to admit that aging is natural. Time flies at its velocity while we are left with fine lines, wrinkles, and other aging issues.
Traditional rituals had complex age reversal medications that are not easy to comprehend in recent times. Hence, you can rely on some alternatives – either home-based remedies or paraben-free products. Figure out how to let people keep guessing your age!!
Top 7 Secrets Of Age-Reversal:
SUN PROTECTION – To prevent premature aging, you need to protect your facial skin from tanning. Whether you are enjoying beach vibes or stepping out for errands, never forget to carry an umbrella, a pair of shades, hats, and sunscreen with higher SPF. Apply and reapply sunscreen on the exposed parts of your body. Sunscreens create a layer of protection over your skin that works as a barrier for UVA and UVB rays to penetrate your skin and cause fine lines and wrinkles. Oshea Herbals brings to you a wide range of sun care products with different SPF factors.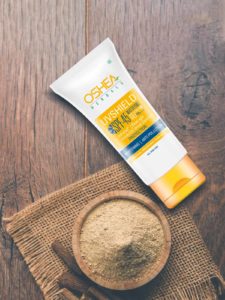 SWITCH TO SOME HERBS – It's hard to compete with herbal remedies. Turmeric is a common kitchen ingredient that reduces wrinkles, acne and improves metabolism. Holy Basil is another herb that can do myriad benefits to your skin and health. Chewing basil leaves can boost your immune system while applying basil juice to your skin can help in obtaining blemish-free skin. Store some herbs for untimely skin issues and receive timely benefits.
CLEANSE YOUR SKIN – Environmental pollution can clog pores, cause pimples and acne. Cleansing your skin with your favorite face wash twice a day is significant to remove dirt particles and impurities. Apply the face wash in a circular motion and massage gently. Try using Oshea Herbals face wash that guarantees elimination of pimple-causing bacteria and improves your skin texture.
MOISTURIZE EVERY DAY – Only cleansing is not sufficient especially when you resolve to combat premature aging issues. Moisturizers hydrate our skin by maintaining the pH balance. This adds glow and vivacity to our skin making it look younger than usual. The face moisturizers by Oshea Herbals include ingredients like cocoa honey, grapes, and many more. Using moisturizers with herbal ingredients can help you gain radiance naturally.
PROPER DIET – Unless you are accustomed to consuming a strict healthy diet, you will be a victim of hyperpigmentation, fine lines, and wrinkles – the quintessential signs of premature aging. Eat fresh fruits and vegetables, animal protein, refined oil, and plenty of water to ensure flawless skin. This is a natural formula to revitalize your skin cells and shoot aging problems.
EXERCISE REGULARLY – Exercise can make you fit and healthy. It improves blood circulation and improves the immune system. Your skin feels rejuvenated and young after you stay in tune with regular workouts.
For anti-aging creams, Oshea Herbals' Age control combo is a perfect fit. It removes spots and pigmentation, lightens skin complexion, and possesses skin healing properties. An anti-aging combo is another package offer that soothes your skin and moisturizes well. It protects your skin from sun damage and prevents aging.
Aging might be the last option you would choose for yourself, isn't it? Then resort to some natural remedies along with purchasing some cruelty-free, herbal products. Let nobody count your biological age. Block out sun tan, blemishes, acne & pimple marks easily with Oshea Herbals' variety of products. Never compromise with your skincare regimen even a bit because flawless skin speaks of beauty, not of your age. Stay connected with Oshea Herbals, stay close to your skin.