This blog educates you about steps to say goodbye to winter woes.
Hello ladies, how has winter treated you this year? The cold winds are just about to change their direction and it's a warning time for your skin. All the dryness that winter had in its store is now about to elope. But before that, you should know what your skin care regimen must look like. Come, let's figure out the common problems your skin undergoes during this time and wave forever goodbye to those winter woes.
What are the common winter woes?
Winter does not come alone. It brings with it myriad skin problems starting from skin dryness, dehydration, flakiness, eczema, psoriasis to chapped lips, cracked heels, and many more. The cold winds tend to leave their traces long after they have left. So, to deal with winter woes, determine the list of problems you go through and then seek solutions.
How to make your skin hydrated while winter is taking its leave?
No doubt your skin demands extra care and attention, especially in winter. So, keeping your skin hydrated is one of the most significant factors to look upon. But while winter is on its way to leave, you must put in some extra effort to ensure the cold bites of winter are gone with it. Stick to using creamy moisturizers, bath oils, serums, body butter until the winter winds stop robbing you of moisture. Consume Vitamin E capsules to revitalize your skin and body cells. Using body lotions will also add moisture and hydration to your body.
Make your pout perfect and appealing
Your pout becomes more appealing when your lips are soft and supple. Never use your saliva to moisten your lips. Rather, always put a lip balm in your bag. To moisturize your lips naturally, apply coconut and almond oil that will disappear dryness and lock hydration as much as you need to pose with the perfect pout.
Step forward with your beautiful feet
Cracked heels are embarrassing. They don't allow you to expose your bare feet. To ensure beautiful feet, indulge in cleansing, scrubbing, and gently massaging your feet. Moisturizing your feet in winter relaxes your foot muscles and improves blood circulation. Apply foot creams, wear socks, put on closed shoes to avoid dust and dirt. Follow a proper foot care regimen to ascertain that winter does not bother the least of your feet.
Steps To Say Goodbye To Winter Woes:
By now, winter woes are known to all. So, let us read out the list of dos and don'ts for your skin. 
Apply sunscreen regularly with a high SPF factor.
Moisturize your skin very often so that it does not run out of hydration.
Avoid using hot showers, blow dry, or facial steams. They make your skin drier.
Exfoliate twice a week. The layer of dry, dead skin cells should be shed off. Else they make your skin appear dry and dull.
Drink plenty of water and fruit juices. They remove toxic elements and ensure utmost hydration.
Avoid using alcohol-containing astringent or other skin cosmetics. They might be harsh on your face, reducing the amount of moisturization.
Use a hat or a scarf when you go out in the sun.
Take care of your ankle, knees, and arms. Usually, they are neglected in winter.
Avoid touching your skin frequently. It increases the risk of contamination and bacteria-causing germs settling right on the skin pores.
Consume vegetables and fruits to improve metabolism.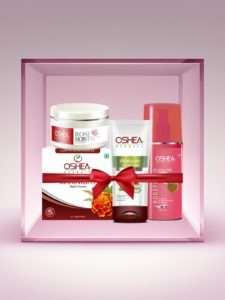 Winter is the season of fall. How hard we try to protect ourselves from the adversities of the season, our skin tends to fall apart. So, it's better to take some precautions beforehand and wave goodbye to the winter blues. Visit the Oshea Herbals website and watch out for the new range of winter care combo and winter body care combo. Winter woes now can be easily taken care of!!