Phytonight Night Cream: One Cream With More Than One Benefits:
Makeup, pollution, wind, sun—everyday life can pummel your skin. To help boost its radiance, there's nothing better than a good night cream and here's why!
What happens to your skin while sleeping?
Skin cells regenerate during sleep
You probably have a smart thought of what sleep means for the body, however, do you realize that skin cells go into makeover mode while you sleep? This is when the cells need the most supplements, and when their anti-aging benefits have maximum impact.
At night the skin is more receptive to certain products
You have pondered about night creams and if they work. You ought to know that restorative products work better when the skin is less pushed by climate conditions and that deeply cleansed skin can all the more likely retain the active elements of creams.
Be careful: choose the right products!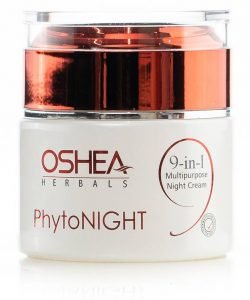 Also Read: Benefits of Using a Night Cream for Your Face
Phytonight Night Cream: One Cream With More Than One Benefits:
Oshea Herbals Phytonight 9-in-1 multi-purpose night cream is enriched with skin-responsive botanical actives to give immediate and continuous balance to the skin. With a blend of natural actives and multivitamins, it lightens & brightens overall skin tone by reducing melanin transfer to the surface of the skin.
Skin temperature and microcirculation increase
Higher skin temperature permits restorative products to have a more profound infiltrating activity, thus giving significant outcomes.
Your skin loses more water at night
During the night, skin temperature increases and vessels enlarge; hence, it is important to treat it cautiously before heading to sleep to forestall wrinkles or drying in the first part of the day.
After eliminating all hints of cosmetics, pick a cream that can reestablish skin hydration.
Also Read:  Top 5-Night Skincare Tips To Follow

Our Phytonight night cream is loaded with Bearberry extract, Vectorized glycerin with cinnamon extract, and Pistacia Lentiscus Gum
Oshea Herbals Phytonight 9-in-1 multi-purpose night cream assists in recovering and replenishing your dull and dry skin with its magical properties and is loaded with:
Bearberry extract: Evens tone skin and brightens the skin.
Vectorized glycerin with cinnamon extract: Controls sebum production and acne.
Pistacia Lentiscus Gum/Pistacia Lentiscus (Mastic) Gum: Correction of age spots, and pigmentation disorder, enhances skin tone, followed by a glowing effect.
Also Read: Must-have ingredients in my face cream

The 9-in-1 benefits of Oshea Herbals Phytonight night cream
Skin Lightening
Even skin tone
Sebum Control
Acne Control
Age Spot Correction
Skin Toning
Brightening Effect
Skin Nourishment
Anti-ageing
How to use the Oshea Herbals Phytonight night cream?
Wash your face before you apply the Phytonight night cream.
Gather a dime-size measure of the cream. Gently dab it onto your face.
Follow an upward, circular motion to apply the cream onto your skin.
Try not to apply the night cream on your eye-lids.
Perform facial yoga after applying the cream for best results starting from the neck area and moving up to the forehead enhancing the overall circulation of your facial muscles.
Also Read: What makes our Phyto Day and Night Cream Different From Others

What are you waiting for? Get your hands on our Phytonight 9-in-1 multi-purpose night cream and get the nourished and moisturized skin you always wished for!
Shweta Gupta, a digital marketing executive with over 4 years of experience, is also a passionate content writer specializing in skincare and beauty. Her engaging content serves as a guide to help readers choose the right products for achieving healthy, radiant skin. With expertise in both digital strategy and beauty, Shweta is a trusted authority in the field of skincare and wellness, offering valuable insights and recommendations for her dedicated audience.