Are you looking for the right skincare routine for revived skin?
If yes, including a night cream is essential. We often overlook the importance of night cream and usually depend on the same cream for the day and night. 
A night cream is specifically formulated with ingredients that help boost the skin's health. If you use a good quality night cream, it will enhance, soothe, repair, rejuvenate and restore. 
If you are still missing out on using a night cream in your everyday skincare, we'll tell you some of the convincing benefits of night cream. 
Benefits of Night Cream 
A typical night cream for face is formulated with special ingredients like shea butter, vitamins A, C, and E, honey and antioxidants. If you have your hands on the right cream, here are the benefits you can get access to. 
Night creams are great to give your skin the right amount of moisture. They are good at hydrating and nourishing the skin. Instead of using your day cream at night, moisturize it with a night cream. 
You will see visible results and would love to add this to your everyday skincare regime. Night cream for women and men has the property to lock moisture in the skin all night long. 
This ensures that you wake up fresh in the morning and your skin looks revived. Using a night cream regularly can make your skin look soft and supple. The cream also helps to cure the dark circles under the eyes by filling the lack of moisture.  
Night creams help in skin renewal by giving the skin an opportunity to rest and repair itself while we sleep. These are usually formulated with ingredients that help to nourish and repair the skin, such as antioxidants, vitamins, and other natural ingredients. 
These ingredients help to combat the signs of ageing, reduce inflammation, and restore moisture to the skin. By using a night cream, you can help reduce the appearance of wrinkles, improve skin tone, and promote overall skin health.
Makes the Skin Even-toned
Night creams help to even out skin tone by providing moisture and hydration, and by boosting skin cell turnover. They also help to treat existing discolouration, such as age spots and dark spots, by lightening them. 
Night creams contain high concentrations of active ingredients, like retinol, peptides, and vitamin C, which can help reduce the appearance of fine lines and wrinkles, and make skin look more youthful and even-toned.
Wrinkles and fine lines are more noticeable when collagen is destroyed. Night creams contain ingredients that help to stimulate collagen production in the skin. 
These ingredients, such as retinol, peptides, and antioxidants, help to improve the skin's overall health and promote the production of new collagen. 
Additionally, night creams provide deep hydration to the skin, which helps to keep the skin's collagen and elastin fibres stronger and more resilient. This helps to reduce the appearance of wrinkles and other signs of ageing.
How to Choose a Night Cream?
Well, if you are convinced of the benefits of night cream and wish to use one for the skin, ensure that you consider the important factors before buying one.
When choosing a night cream, it is important to consider your skin type.
Oily skin requires lighter creams, while dry skin requires heavier creams. It is also important to look for ingredients that are tailored to your skin's needs. 
For example, if you have dry skin, look for creams with hydrating ingredients such as hyaluronic acid and ceramides. 
Similarly, if you have oily skin, look for creams with oil-control ingredients such as salicylic acid and zinc. Additionally, make sure to check the labels for any potential allergens. 
How to Use a Night Cream?
The right time to use night creams is, well, night! You should consider using a night cream before you go to sleep. Also, using it the right way matters a lot. 
Here are the appropriate steps:
Cleanse your face properly with a gentle cleanser. Use a cleanser suitable for your skin type. Pat your face dry. 

Use the night cream gently on your skin in a circular motion in upward strokes. Do not apply it around your eyes. 

Do not miss applying the cream around your neck. It is because the ageing signs like fine lines and wrinkles are most visible on the neck.  

You should apply the cream half an hour before going to sleep. 
Use Oshea Herbals Phytonight Night Cream
Now that we have answered what is a night cream, we want to you grab what's best for the skin. Consider Oshea Herbals' Phytonight night cream. It is formulated with active ingredients that reduce melanin production and make the skin brighter.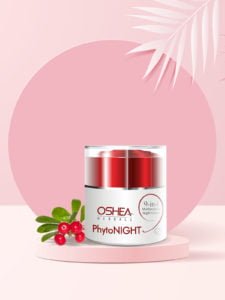 It contains ingredients like Soybean (Glycine soja) extract,  Pea (Pisum sativum) Extract, Bearberry extract and Pyrus Malus (Apple) Fruit Extract. 
The cream also has SPF 25 PA++ that protects your skin from UV & UVB rays. This cream is highly suitable for men and women and is perfect to keep the skin moisturised. 
You can use it every day in three simple steps as follows:
Step 1- 
Cleanse your face
Step 2- 
Apply a small amount of cream on your face and neck in a circular motion. 
Step 3-
Let it get absorbed into the skin. 
Summing Up 
Night creams can be really effective when it comes to retaining the health of the skin. You need to have separate creams for the day and night. Making this little switch can make a great difference in your skin. Use one from a reliable brand and your night skincare formula is sorted!
Frequently Asked Questions
1. Is night cream important for face?
Yes, a night cream is pretty important for your skin. It can help your skin get more hydrated and fight acne and breakouts. Regular use of the cream can also help to repair its health and protect it from factors like pollution and UV rays. 
2. Can I use night cream every night?
Yes. Night creams are formulated with active ingredients that help to hydrate the skin. Hence, providing the skin with enough moisture every night before going to sleep can help enhance the skin. 
3. What is the purpose of night cream?
The night cream helps to repair your skin after all the damage it goes through throughout the day. Its ingredients help to replenish the skin and hydrate it. It also protects the skin from UV rays and helps to fight the issues that are inevitable even when you use sunscreen.