You may wonder what is the use of face serum and what's all the hype about. Well, face serums are all the rage right now for the numerous benefits they present to the skin. These hyper-concentrated skincare products have become popular with the masses for offering solutions to manage stubborn acne, blemishes, dark spots, wrinkles, dullness, and more.
You name it and they solve it, mainly because of the specific active ingredients they contain such as hyaluronic acid, glycolic acid, Vitamin C, retinol, and more to deal with specific skin conditions one may experience.
With their lightweight gel consistency and skin healing, moisture-balancing capabilities, serums have become the topical magical potions found in almost every woman's makeup bag and in a man's kit, to be carried on their travels and applied daily for beautiful, glowing & healthy skin.
So, when everyone is utilizing serum benefits that perform magic on the skin, why are you not making the most of them?
Jump on the bandwagon and make use of face serum yourself but first, read this article and know everything there is to know about face serums – their diverse merits and how you can choose the right one based on your specific skin texture, type, and price range.
What is Face Serum? 
A face serum is your secret weapon to achieve perfect skin tone. Their regular application can bring a significant, positive difference in how your skin looks and feels.
They contain concentrated actives and fewer additives such as emulsifiers or oils which make them lightweight, quick-absorbing, deep-penetrating, effective, and an essential step in any skincare routine for rejuvenated skin.
Also Read: 13 Beauty Benefits of Using Ice Cubes On Face

Benefits of Face Serum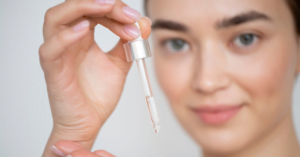 Here are 12 ways in which your skin benefits from consistent serum application over time. Take a peek at the diverse benefits of face serum! 
1. Intense Hydration 
Face serum moisturizing capabilities are far superior to your regular moisturizer as they usually contain a good amount of hyaluronic acid that takes moisture from the surroundings and offers long-lasting hydration to the skin while rendering a dewy, fresh look to your face. 
2. Skin Brightening 
Want to uplift your dull skin? A face serum can help brighten up your face. We often experience skin dullness and uneven complexion but worry not.
You can get your glow back through the consistent use of a face serum that contains ingredients like Vitamin C and niacinamide that hinder melanin production and enhance collagen in the skin to render a bright and beautiful complexion and counter dullness. 
Also Read:  9 Benefits of Adding Toner To Your Skin Care

3. Keeps Inflammation at Bay
Ever experienced skin irritation all of a sudden? Usually, washing your face or applying a moisturizer soothes your skin for a while. To make these instances of skin inflammation less and less frequent, you can opt for face serums that have calming ingredients such as Aloe Vera, Green Tea extract, and more which help reduce inflammation and redness around your skin.
4. Prevents Acne Breakouts
The stubborn pimples are the villain in every story and you can take them out with a face serum for certain. There are serums that contain ingredients such as Tea Tree oil that regulate sebum production, fight acne-causing bacteria, and reduce blemishes on the skin without causing any dryness or irritation.
Acne is among the commonest issues faced by the masses and it is easily resolved by a face serum containing salicylic acid. 
5. Gets Rid of Dark Spots 
Face serums help fade dark spots, reduce acne marks, and an overall even skin tone as they target melanin production and contain effective ingredients such as Vitamin C, glycolic acid, and Hyaluronic acid that help in dealing with any discoloration or ance marks one may have on the face. 
Also Read:  How to Get Pink Cheeks Naturally?

6. Prevents Pre-mature Ageing 
Wrinkles, fine lines, and other signs of ageing start to appear as we grow old. However, your skin will retain its elasticity for a long when treated with face serums that contain nourishing concentrated ingredients such as peptides and retinol. 
Serums are also antioxidant-packed which helps them fight free radicals and lets you enjoy youthful skin.
7. Decreases Sun Damage
Sun exposure can lead to tanning, the appearance of age spots, discoloration, and skin ageing. That is why it is a rule to always wear sunscreen while stepping out. But once the damage is done to the skin, opt for a Vitamin C serum which helps reduce tan, uneven coloured patches, even out the skin tone, and enhance the complexion. 
8. Decreases Skin Pores 
Small pore size is crucial for better skin health as enlarged pores indicate that there is clogging due to oil or bacteria buildup.
To cleanse and minimize pore size and give your skin a smoother appearance, you can choose a face serum with glycolic acid that gently exfoliates the top layers and penetrates deep to give a clearer and softer complexion over time.
Also Read:  How to use Face Serum?

9. Reduces Fine Lines
The appearance of fine lines on your face can be so sudden that you are taken aback but worry not, there are perfect serums for it with retinol as the key ingredient that fills in those fine lines and gives your face a smoother appearance in a couple of weeks. They help plump your skin from within.  
10. Skin Barrier Support 
Our skin dulls due to the effects of pollution, sun damage, and more. Face serums help reinforce the skin barrier and protect it from harm as they include barrier-boosting peptides, specifically designed for the purpose of improving the skin barrier's resilience.  
11. Prevents Skin Issues
Face serums provide your skin with the nourishment it needs to keep skin healthy and glowing, whether it be proper hydration, fine line reduction, regulating collagen production, or acne prevention that your skin needs. Face serums can be used as a preventive measure to keep skin in perfect health as per your skin type. 
12. Targets Specific Skin Conditions 
You can pick a serum, formulated to target your unique skin care concern such as skin sensitivity, hyperpigmentation, or a combination of issues with optimal ingredient selection that soothes your skin and goes well with it the most.  
Also Read:  12 Tomato Benefits For Skin | DIY Masks

Considerations Before Buying The Ideal Skin Serum
Now, let's jump to selecting the right serum and the important factors that you should take into account while making the purchase. Here is a list of things to keep in mind while getting the serum for your specific skincare goals.  
1. Skin Type 
Select a serum that's right for your specific skin type so that it is able to better function in addressing and targeting your specific skin concern. The benefits of face serum are more visible when it's right for your skin type. You may have oily, dry, sensitive, or combination skin, identify it and opt for a serum that is best suited for your skin type.
2. Skin Concern
The best thing about serums is that they are specific in helping you meet your skincare goals. You name whatever you need – a hydration boosting serum, skin illumination serum, ance reduction serum, inflammation lessening serum, anti-ageing serum and you get a concoction in a bottle that works on those specific issues. Take the specific uses of face serum into consideration while opting. 
Also Read:  Benefits of Rose Petal Powder For Skin And Hair

3. Ingredients
In the serum game, the high-concentrated active ingredients are the players that you should pay attention to reap good results.
Choose the ones most effective for your skin condition such as hyaluronic acid for hydration, Vitamin C for skin brightening, retinol for anti-ageing effects, niacinamide for acne peptides for collagen support, and more to get the best effects.
4. Concentration
You should consider the concentration level of the serum you are opting for as high-concentration serums may be effective in dealing with skin conditions effectively and at a faster pace but they can also prove to be harsh to your skin. Thus, it is recommended to take your skin's tolerance and sensitivity into consideration as well. 
5. Texture 
Serums come in various textures from quick-absorbing and lightweight to ones that are oil-based and possess thicker consistency. Go for the texture that works well for your skin and as per your preference. 
Also Read:  How To Use Cleansing Milk For Face?

6. Allergies & Skin Sensitivity
Patch test a serum before applying it to your face to test skin sensitivity. Do your skin a favor and always take a look at the ingredient list. This way, you can avoid the face serums that contain ingredients that you are allergic to and save your skin from some discomfort. 
7. SPF Compatibility
If you are using a day serum to layer with your moisturizer and sunscreen, check the SPF compatibility of the ingredients. Also, some serums elevate the skin's sensitivity to the sun which makes sunscreen a must. 
8. Price 
Set a budget for buying the serum first as serums are available in a wide range of prices in the market. Choose the ones that suit your skin and price brackets best. 
How to Apply Your Serum on the Face?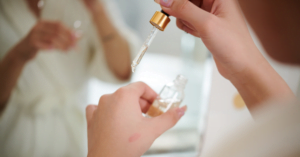 Proper application of serum will result in better effects on your skin. You will glow when you apply face serum right and consistently for weeks. 
Also Read:  How To Use Glycerin For Skin Lightening?

To ensure that you don't miss a spot on your face while applying, drop the serum onto your fingertips and then, gently apply it to your overall face. Don't skip your neck and smooth out the serum with light taps and pats. 
Another way to apply face serum is to drop serum to your palms first, activate it by rubbing your palms together, and then, lightly press your palms onto your skin. Pat the serum in outward, upward motions for better absorption and spread.  
Also, some serums are usually applied in the morning while others find their place in the nighttime or evening skincare routine. Here are the serums and their application time so that your skin gets the radiance sooner. 
Hydrating serums:

Morning usage to lock in moisture and keep your skin hydrated throughout the day.
Brightening serums:

Applied at the start of the day to give your skin a radiant look. 
Note – You should always apply sunscreen with a morning serum, especially if your serum contains ingredients that increase the skin sensitivity to the sun such as vitamin C serums.
Anti-aging serums:

Anti-ageing serums are usually applied to skin at nighttime as they include ingredients like retinol which makes your skin more sensitive to sunlight.
Exfoliating serums:

Apply exfoliating serums in the evening as they help remove dead skin cells and improve skin texture.

Acne-fighting serums: These are used in your evening skincare routine to combat breakouts effectively. 
Also Read:  The Benefits Of Using Facial Oils

Oshea Herbals' Range of Facial Serums
If you are looking to get a serum for your skin issue, be it getting rid of acne or blemishes and dark spots, check out the serum range by Oshea Herbals, a renowned skincare brand that offers Papaya Serum, Almondfine Anti-Ageing face serum, NeemPure Anti-Acne & Pimple Serum, Vitamin C Serum, and more that target specific skin conditions and enjoy beautiful skin.  
Conclusion
Overall, including a face serum in your skincare routine can get a ton of skin benefits and a glowing complexion. Choose the one that's apt for your skincare needs and price range. You can even include two serums for two specific conditions in your skincare routine. Opt for a day serum as well as a night serum. 
Frequently Asked Questions 
1. Can we use face serum daily?
Since serums have a high concentration of active ingredients, you may have concerns about using them daily. To put your worries at ease, the daily application of serum is completely safe. Even experts recommend that one should apply face serum every day to reap optimal results.  
2. What does a serum do to your face?
Face serums can do a lot of good for your skin as they provide it with the nourishment your skin needs. Serums are also effective in targeting skincare issues such as wrinkles, acne, dry skin, and dullness to render beautiful, radiant skin. 
3. When should I use skin serum?
Hydrating face serum, brightening serum, and sun protection serum shall be used in the morning to render the glow and should be layered with sunscreen for sun shield whereas anti-ageing serum, exfoliating serum, and acne-fighting serums should be a part of your evening skincare routine as they contain ingredients which make skin sun sensitive. 
4. Can I leave the serum overnight?
Yes, you can leave some types of serum on your face overnight such as hydrating serums, anti-ageing serums, acne-battling serums, and exfoliating serums so that their nourishing ingredients are absorbed overnight. Apply them in the evening or night, and leave them on to enjoy the glow the next morning. 
Shweta Gupta, a digital marketing executive with over 4 years of experience, is also a passionate content writer specializing in skincare and beauty. Her engaging content serves as a guide to help readers choose the right products for achieving healthy, radiant skin. With expertise in both digital strategy and beauty, Shweta is a trusted authority in the field of skincare and wellness, offering valuable insights and recommendations for her dedicated audience.