In this blog, we will show you post-holi tips for skin and hair. Holi is a vibrant and enjoyable festival that captures the essence of Indian culture. However, when it comes to having a nice time, how much fun is too much fun? Though Holi is a festival where you can let your hair down, the harmful chemicals in the colors used can dry out your skin and make it look dull and lifeless.
You may be tired by the end of the party and want to get rid of all the colors as soon as possible, but it is important to remember to be gentle with yourself. Excessive or intense rubbing can irritate the skin and cause fine color particles to penetrate deeply. If the preceding statement gives you pause, let us be the first to assure you that using the post-holi Tips For skin and hair mentioned below, you will be able to wash away all of your skincare issues. We have some key points for you to keep in mind:
Let Your Skin Shine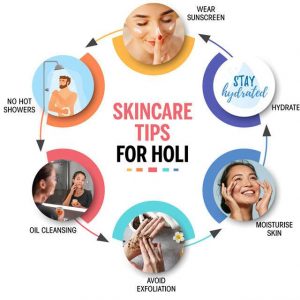 Post-holi tips for skin and hair:
Removing the color from your skin after Holi, hands down is one of the most challenging tasks. Nobody wants to go to work the next day feeling like they spent the day splattered with paint (even if they did). To remove the color, rinse your face with cold water and cleanse it with a cleanser to ensure that your pores are clean and free of color. Oshea Herbals turmericlean cleansing lotion is specially formulated for dry skin and is ideal for deep cleansing and removing make up. It is enriched with precious nutrients and natural extracts that cleanse, lighten, moisturize and soothe the skin, preserving its elasticity.Gently massage the lotion all over your face and neck.Wipe your face and neck with a wet cotton ball to deeply cleanse your skin.For best results, use Oshea Herbals Rosefresh Skin Toner after cleansing your skin. In addition, you can also use our Activated Charcoal Face wash before using the toner for an effective cleansing routine.
Get Rid of Your Issues With Moisturization
It's almost impossible to avoid the dryness that comes with Holi. Mind that we said "almost" unlikely before you get too stressed out. Oshea Herbals CocoaHoney moisturising lotion is all you need to get back at your holi skin that got deprived of moisture because of the harsh color chemicals. It is a protective lotion that hydrates skin all day long, maintains the pH balance of skin and enhances its moisture retention capacity. It contain Plant extract, which improves skin firmness & elasticity. An all purpose moisturising lotion that promotes soft, silky and smooth skin.
Pro Tip: Moisturise your body with Oshea Herbals Honey & Saffron body lotion and restore your bodily moisture.
Ensure that you Wake Up Fresh
Holi is considered as the festival of parties, and with a party comes a lack of sleep. It's likely that you'll grow puffiness and dark circles as a result of this. So ensure a sound sleep right after enjoying the festivities to wake up with soft and flawless skin even after holi. Follow the post-Holi Tips For Skin and Haircare routine we suggested diligently and sleep all your worries away!
BONUS: Make sure to wash your hair with a gentle cleanser because chemicals present in the colours can dry out your hair and ensuring  conditioning is of utmost importance.