In this blog, we will tell you about absolute guide for Summer. Summer is that season where it requires the biggest shift in your beauty stash. Heavy foundation and thick creams get no place in your summer beauty kit. The summer season is all about lightweight, moist and waterproof. You need to switch gear in terms of your skincare to your haircare, with SPF being the utmost important thing.
Here are your absolute guide for summer routine: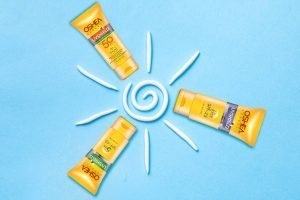 Never forget Sunscreen
UV rays are damaging for your skin all year round, not just in the summer. People have been advised over and over again, but it remains true: SPF is extremely necessary when it comes to your skincare routine. We should also understand that a moisturizer with SPF or a foundation that includes SPF is not useful compared to an actual sunscreen product. We at Oshea Herbals have a wide range of sunscreen products:
Moisturize at least twice a day
Your skin is bound to lose its hydration throughout the day and it is important one should have hydrated skin so that it keeps your skin enviable and youthful. Applying moisturizer twice a day, once in the morning, and once at night makes sure your skin is moving along your skin cells' life cycle for healthier skin, hydrating, and most importantly for the protection of it. We truly recommend you to use:
Hair conditioning is key
Your hair gets thirsty too in the hot summertime as you do. So, it is essential to treat it with little moisture-rich refreshment. After your shampoo use of conditioners adds to the moisturizing formula and the use of hair serum at the ends will help restore dehydrated locks. We have also added haircare range for you to choose from for absolute guide for Summer:
Sunscreen also for your hair
Yes, your hair too needs sunscreen like your face. One's skin isn't the only one that absorbs damaging UV rays, you need to protect your hair as well from the same. There are a variety of shampoos, conditioners, sprays, oils, and masks to choose from. It all depends on which one works best for your hair type and lifestyle.
Necessary to stay in the shade
Everyone is recommended to wear sun-protective clothing, wide-brim hats, and sunglasses to protect themselves from the sun. It is not expected for people to wear a long-sleeve shirt every single moment they are out, but be mindful of the amount of exposure, be as little of your body as possible to direct sunlight. That can also mean sitting underneath an umbrella, wearing an extra-large hat, or avoiding the noon sun.
A solid skin and hair care routine should apply to all seasons and climates, but there are a couple of changes one would consider when shifting focus from winter to summer.