In this blog, we will give you a suggestion about "What to carry in your bag this summer?" Summer requires a great deal of care for a ton of things – your skin, your eyes, your wellbeing.  Lack of hydration is a genuine concern and ought to be forestalled, and so is bad and drained-out skin, sweat, and pollution. Furthermore, we don't always have access to the lady's room, but what we do have access to is our bags. So we should be summer-savvy and carry a number of basics with us any place we go.
What to carry in your bag this summer?
Here is a list of summer essentials you should keep handy!
Water
The most important thing within your reach should be undoubtedly water. In this scorching heat and humid weather, it is of utmost importance to keep drinking water, in order to keep your body and skin hydrated and ready to face the adversities of the dehydrating weather. Water will help your skin to restore hydration and bring back life to your dull and drained-out skin.
Sunscreen
One of the most self-evident and notable advantages of sunscreen is that it ensures the protection of your skin against the sun's wide range of harmful UV beams. A high SPF sunscreen limits the penetration of UV rays into the skin and sets off an assortment of skin problems. Make sure you re-apply sunscreen every 2-3 hours for maximum protection.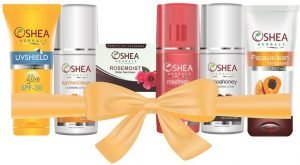 Oshea Herbals unique sunscreen lotion provides protection from infrared rays in addition to UVA & UVB to shield the skin from environmental damage and melanin formation like skin darkening and skin tanning.
Shades and Scarf
This summer, no matter the heat, looking stylish and fashionable is on everyone's list. So grab a pair of UV protective glares and a fashionable scarf and head out in fashion!
Sunglasses provide much-needed care and protection to your eyes during summers and scarves ensure hair protection from pollution, dust, and heat.
Face wash
Summer is a season where your skin tends to accumulate dust and blocks the pores making it difficult for your skin to breathe. And hence an SPF face wash comes to your rescue!
Try using a face wash rich in UV protective compounds like the Oshea Herbals UV shield Face wash which is enriched with botanical & herbal extracts of carrot, cucumber, vetiver, aloe vera, and chamomile that help to deep cleanse & purify the skin, giving it a whitening and refreshing complexion.
Hand Cleanser
Summer means SWEAT! And not the feel-good workout sweat but dirty surfaces and sticky, smelly sweat. Germs are floating all around in this weather hence making it a necessity to be germ-free in order to protect ourselves from falling ill. A small bottle of a hand cleaner comes in handy when you are looking for a boost of freshness!
PRO TIP: Make sure to use a refreshing shower gel and a moisturizer at the end of the day to wash off the summer residue from your skin and get a refreshed and feel-good sleep.
Be summer ready with us!