Use PhytoNight night cream
Imagine those dark spots, wrinkles, fine lines on your face before Valentine's day. For women, that's a scary nightmare than ghosts, and having them before a date can be scarier… Women want to look young forever, and that's sadly true but that's quite challenging as well. You have to keep discipline in your diet, lifestyle to keep yourself naturally looking young.
But just in case you're one of those women who barely have breathing time then you surely want to know the secret of an overnight glow before a date night. So, let's dive right in. In our view, flawless-looking skin from head to toe is the perfect thing to pair with your stunning red dress on a date night.
Here's how to get your skin in tip-top shape with Valentine's Day around the corner. It's Oshea Herbals Phytonight 9-in-1 multi-purpose night cream. Enriched with skin responsive botanical actives to give immediate and continuous balance to the skin. It lightens & brightens overall skin tone by reducing melanin transfer to the surface of the skin. It is a blend of natural actives and multivitamins. So use PhytoNight night cream and get ready for glowing skin in this valentines day.
Also Read:  Benefits of Using a Night Cream for Your Face

Why do we opt for night creams?
The only time your skin is at peace & undisturbed is at night. This is, why, by default, it's the perfect time your skin takes to heal itself (beauty sleep, anyone?). It is a necessary step of any skincare routine to boost your skin with the proper night cream in this repair process. Night creams help to rehydrate your skin and fight off free radicals responsible for damage to your skin. And why not just apply it and sleep on it for a solid 7-8 hours and trust us on this, you will wake up to a glowy skin the very next day.
I mean if you want a perfect date night then why not pamper your skin starting today?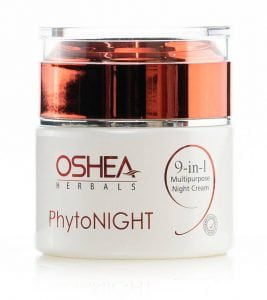 Also Read:  Phytonight Night Cream: One Cream With More Than One Benefits

What it does?
Reduces the effects of day times stressors
Hydrates and moisturizes the skin
Inhibits melanin formations
Brightens dry and dull skin
Minimizes the open pores
Reduces lines and wrinkles
Fades the appearance of age spots and blemishes
Controls sebum production
Provides nourishment to your skin
Use PhytoNight night cream:
Our Phytonight night cream is loaded with Bearberry extract that aids in lightening tanned skin naturally, evens tone skin. Vectorized glycerin with cinnamon extract helps sebum control and acne control. Pistacia Lentiscus Gum/Pistacia Lentiscus (Mastic) Gum corrects age spots, and pigmentation disorder, tones skin, brightening effect
But before the special date night, address your blemishes. Since blemishes don't vanish overnight, it's best to work on it before to keep them at bay. Start by regularly cleansing your skin with a herbal cleanser that will be safe on your skin. And if you haven't exfoliated then make sure you do that too, to help remove pore-clogging dirt, impurities, dead skin cells and excess oil. Then apply Phtonight night cream smoothly on a clean face and neck. It is gentle enough for everyday use.
Also Read: What makes our Phyto Day and Night Cream Different From Others

Now that you know why Phytonight 9-in-1 multi-purpose night cream plays a cupid's role this Valentine's Day try including it in your daily night skincare routine, and you are ready to take over your date night.
Shweta Gupta, a digital marketing executive with over 4 years of experience, is also a passionate content writer specializing in skincare and beauty. Her engaging content serves as a guide to help readers choose the right products for achieving healthy, radiant skin. With expertise in both digital strategy and beauty, Shweta is a trusted authority in the field of skincare and wellness, offering valuable insights and recommendations for her dedicated audience.