This blog discloses everything about the top 5 winter skincare myths.
Winter means lack of hydration, winter means no moisturization. Winter means dryness all over your body. Well, they are all true. Winter is the harbinger of skin problems, no doubt. But while seeking a solution to all these above-mentioned skincare issues, we often tend to believe in myths – some conventional, unverified facts that have unconsciously crept into our head or maybe repeated discussions have influenced our skincare routine. Dear folks, it's time to debunk all those myths together and explore what lies beyond that world.
What are winter skin care myths?
Cold winds and decreasing temperatures are hard to cope with. So, with the change in season, we bring about a prominent change in our skincare regimen. But do those changes add any nutritional value to our skin? No, we hardly explore the truth and start believing some age-old facts not worth-relying and they come to be called myths. Here, we share some myths that you might find surprising but yes, they are true. So, let's just bring them on. Stay tuned with us.
Also Read: Essential Skincare Tips For Winter That Work Wonders
Top 5 Winter Skincare Myths:
Winter myth #1
Go for thicker creams. They stay on your skin. Hahahaha, the phrase sounds pretty known. Isn't it? But beware. It's a wrong conception about moisturizers you have. Even if the cream has a thick texture, it does not guarantee optimum hydration. Rather excess supply of lipids can entrap the dead skin cells and make your skin appear dull and lifeless. We suggest you use Oshea Herbals' wide range of serum. The active ingredients present in face serum penetrate into your skin and impart glow and nourishment. Try applying a layer of light Oshea Herbals moisturizer over a layer of serum.
Winter myth #2
A hot shower is a source of skin health. Ummmm, winter mornings, chilly winds, warm blankets, and cozy beds – to such winter vibes, hot showers come as a blessing. Isn't it? But to inform you, hot showers do not moisturize or nourish your skin. Rather hot showers take away the essential oils present in your skin and therefore make it drier than usual. Limit your showers during winter and your skin might benefit in reality.
Also Read: Winter Essentials For Body Care
Winter myth #3
Winter means mild sun and less sunscreen. This is another irrational myth popular among folks. Who told you that the winter sun is mild? The truth is UVA and UVB rays penetrate through your skin even on cloudy mornings. Clouds are no barrier to shield against the harmful sun rays from entering the earth. So, whenever you step out, wear sunscreen with a high SPF. Moreover, sunscreens also hydrate your skin cells. Explore the sun protection range by Oshea Herbals.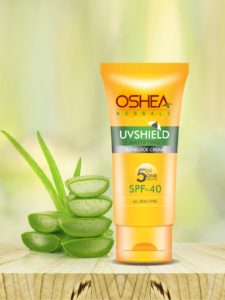 Also Read: 4 Ways To Remove Winter Tan
Winter myth #4
Exfoliation has nothing to offer in winter. Do you really think so? We all know that exfoliation is the process of shedding off dead skin cells. But if it does not happen naturally, the skin tends to develop dark patches. So, go for exfoliation twice a week even in winters. This will help your skin to regenerate skin cells and remove stubborn, dark patches. Moisturize your skin well after exfoliation. See what Oshea Herbals has to offer in face scrubs.
Winter myth #5
Indoor heating strips off moisture from your skin. Indoor heating holds moisture in the air. So the question of striping the moisturizing elements from your skin is absolutely irrelevant. What is more important for you to know is that if the air is stuffed with warmth and moisture, your skin tends to hold some, but the cold winter winds especially outdoors can steal away all the nutrients, essential oils, natural oils from your skin and leave it dry and dull. You can use a humidifier if needed.
Also Read: Winter Skincare: Choose Our Winter Combo and Keep Dry Skin at Bay!
So, wasn't it interesting to know about the age-old winter myths? Now it's time to debunk them with Oshea Herbals and enjoy the thrills of winter without any worry.
Shweta Gupta, a digital marketing executive with over 4 years of experience, is also a passionate content writer specializing in skincare and beauty. Her engaging content serves as a guide to help readers choose the right products for achieving healthy, radiant skin. With expertise in both digital strategy and beauty, Shweta is a trusted authority in the field of skincare and wellness, offering valuable insights and recommendations for her dedicated audience.