This blog talks about the top 5 tan removing formula.
It feels great to bask in the winter sun, right? But the thought of tanning draws you back home. Umbrella, shades, sunscreens, scarfs, and whatnot? If you plan a trip to your favorite beach, there's a long list of items to carry. After all, who wants a darker skin tone?
We, the Oshea Herbals team, are here to recommend to you some of the easiest and most astonishing homemade tan removal recipes. With our list, you will realize how the kitchen ingredients can work wonders and how you can still allow the sun to caress your skin. Watch out for the wide de-tan formulas. Here we go.
What is suntan?
Suntan or sunburn, also called erythema, is caused due to overexposure to UV rays. Sunburn causes skin redness and damaged skin cells.
How does suntan affect your skin?
To be frank, there is no goodness of tanning. The harmful sun rays penetrate deep into the skin through your pores and damage the skin cells in the epidermis. Your skin tries to immune itself in response to this damage and increases the blood flow. This imparts redness to your skin surface and often makes it itchy.
What are the common effects of suntan?
A suntan can cause the following skin problems.
Skin redness

Itchy skin

Blisters

Dehydration

Premature aging

Pigmentation

Sunspots
Top 5 Tan Removing Formula:
Yogurt and gram flour –

A spoonful of yogurt, a spoonful of gram flour can make a thick paste. Apply this consistent mixture to your skin and leave it for 20 minutes.

This is a powerful tan removal recipe.
Yogurt contains lactic acid that pacifies sunburn and helps your skin soothe. Gram flour is enriched with exfoliating properties and restores a natural glow to your skin. Repeat this formula twice a week and your tan will disappear along with skin dullness. You'll get clear, graceful skin naturally.
Turmeric –

Turmeric is known to contain almost 300 antioxidants that combat skin tanning, acne, pimples, and pigmentation. Mix water with a spoonful of turmeric powder.
Stir well to achieve the consistency of a paste. Use this paste to inherit a healthy glow and wave goodbye to tanning forever. Turmeric is an unmissable kitchen spice greatly effective on tan removal.
Papaya –

Papaya is a favorite summer fruit with innumerable skin benefits. To derive its goodness, all you need to do is draw out the pulp, mash it well to make it ready for application.
Papain in papaya exfoliates your skin from deep within, improves your skin texture, de-tans your skin, and wipes out impurities from clogged pores. A gentle massage of raw papaya on your skin can detoxify and de-tan your skin surface.
Potato –

Awestruck? Don't be. If you are in the new diet trend, potatoes might not be on your list but should be in your kitchen. The enzyme catecholase present in potatoes brightens your skin tone and ensures tan-free skin.
Combine at least 3 potatoes and grind them together. Apply the paste to your skin for 10 minutes and reap the benefits as much as you can.
Aloe vera –

Don't think that we are biased! Aloe vera is such a wonder in itself that we have to place it on the top-notch of skincare. No matter what. You can always plant aloe vera plants. Simply scoop out the aloe vera pulp and apply raw to your skin.
This will diminish the sunburn and impart a calming effect. Aloe vera is inevitable in your list of skin remedies and that's where your skin starts stepping forward leaving its tan behind.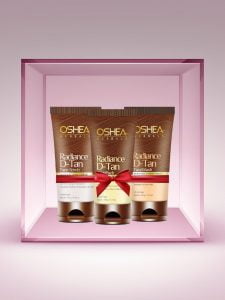 Oshea Herbals suggests you try the Radiance D-Tan Range Combo containing Face Pack, Face Scrub, and Face Wash. You can also explore Glopure Anti Tan Scrub, Glopure Anti Tan Facewash. It's time to trick the tan. Let's get started then.