This blog educates you on the top 5 benefits of using henna.
Henna or Mehendi is popular among women for embellishing their hands on any festive occasion with creative designs or use as a natural dye by adding color to their hair. Even the henna plant is extensively cultivated in our country and possesses medicinal properties according to the traditions of Ayurveda. For beautiful, lustrous tresses, figure out the benefits this evergreen shrub has to offer.
Henna or Mehendi, apart from adding color to your locks, detoxifies your body, improves nails, boosts hair health, reduces inflammation, and results in speedy recovery. So, learn with us today the boons of henna and usher in happiness with your swaying hair.
What is Henna?
The scientific name of henna is Lawsonia inermis. Henna can be used in multiple ways starting from its dye form, in aqueous extracts, in tinctures, salves, leaves, etc. henna oil, bark, and seeds are of excellent medicinal value. The combination of chemicals and nutrients present in henna also helps to infuse anti-inflammatory, antibacterial, astringent, and antiviral qualities. Henna imparts dark red/brown color to your hair and skin that has been traditionally used for centuries.
Top 5 Benefits Of Using Henna:
Health benefits 
A thorough analysis can reveal how the health benefits of henna can prove beneficial for your skin and hair.
Imparting hair color –

If you see your hair greying out speedily and still you don't want to resort to preservative-based hair colors, then henna can be your mate. Henna produces natural red/brown colors to your hair and makes your tresses luscious and beautiful.

Promotes hair growth – Henna comes with phytochemicals like tannins and phenolics. These components help in reducing hair fall and stimulate follicle growth. Choosing a shampoo infused with henna extracts can always benefit your hair with increased thickness and improved hair health.
No more dandruff – Henna has antifungal properties, which gives you the finest solution to sticky dandruff. Make a paste of henna powder with drops of lemongrass oil. This simple home remedy can eradicate itchiness from your scalp caused by dandruff and deactivate microbial disorders.
Anti-aging properties –

Did you know that henna is an organic herbal ingredient? Henna is an awesome natural dyeing agent that can provide color to your greying hair. Let's hear out an easy remedy you can follow at home – take henna powder extracts and mix them with green tea extracts. Add some water and stir well to maintain the consistency of the paste. Apply this at least twice or thrice a week and notice how your hair texture has improved along with beautiful, naturally dyed hair.
Has control over oil secretion – If your sebaceous gland is pretty active, your scalp is supposed to secrete a good amount of oil. Often we do not pay much attention to surrounding factors like environmental damage, pollutants, excess oil production that are heavy on us and cause hair damage. A conditioner with henna extracts can control the oil-secreting glands and enrich your hair quality.
Is it safe to use henna?
Mostly, henna is safe and non-toxic. But if you are allergic or have sensitive skin, better consult a dermatologist before using henna-based products. But usually, over the centuries henna has only been known to spread its benefits among people belonging to various countries. Even on several occasions and festivities, women still apply henna for bringing a unique color and beauty to their hair tresses.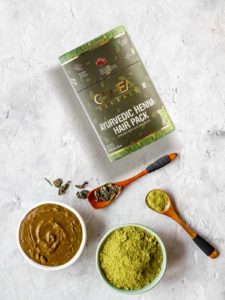 Thus, no more worrying. Henna extracts are naturally safe to use for your hair. Oshea Herbals recommends you to use Henna Hair Pack that contains Mehendi, amla, and neem extracts. It nourishes your dull and dry hair and is perfect for all hair types. Get your Henna Hair Pack right now!!