This blog enlightens you on the 7 tips for your skin for the arriving summer.
Winter has bid farewell while spring is almost at its edge. Now, it's time for summer to boil you up with its blazing sun rays. Obviously, you have wrapped up your winter jackets, blankets to keep up with the weather. You must have accommodated the seasonal veggies and fruits in your diet too. Then what about your skincare regimen? Are you planning to keep it unchanged? For heaven's sake, never do that. Keep aside all your moisturizers and resort to skin-soothing remedies.
Oshea Herbals recommends you listen to the special summer skincare tips to revitalize your skin even in the months of sweating. Shrug off all your exhaustion and let your skin breathe.
Tips For Your Skin For The Arriving Summer:
Winter is all about moisturization while summer is all about hydration. The scorching summer heat calls for sunscreens and intense water intake. Exfoliate regularly and avoid dull skin. Choose cleansers that are water-based rather than creamy texture. As summer approaches, make sure your skincare products have light formulations. Say goodbye to creams and heavy moisturizers for the time being.
Cleanser to choose
Don't worry. Our guidance will direct you to choose the summer-special cleanser. During summer, your skin tends to produce more oil. You can rely on a light cleanser excluding the milky or creamy texture. For a soothing effect, try using cleansers based on aloe vera and cucumber – the quintessential juicy summer fruits. For the best picks, we can advise you to use Activated Charcoal Facewash, Aloepure Aloe vera & Basil Facewash, UV Shield Sunscreen Facewash Gel by Oshea Herbals.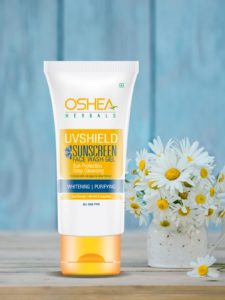 Moisturizer to choose
Does summer require moisturizers? Yes, of course. Your skin might feel dry even in the months of sweating. Light moisturizers with hydrating agents can be of great benefit. You can always use face serums and facial oils to add smoothness, radiance, and vibrant texture. But make sure whatever you use, must be light-weight and impart a calming effect to your skin. This is exactly what summer demands from us. Use Grapemoist moisturizing lotion by Oshea Herbals.
Unforgettable sunscreen
Summer and sunscreen are inseparable pairs. Wherever you go, the sun will always follow. So, walk with your umbrella, sunglasses, scarves, and inevitable sunscreens. In recent times, sunscreens comprise moisturizers and higher SPF. So putting on sunscreen can help you protect your skin from harmful UV rays. But remember, a higher SPF does not certify prolonged protection. Keep applying sunscreen even when you are out for longer and more effective protection. Use UVShield Sun Block Formula SPF 50, UVShield Mattifying Sun Block Cream SPF 40, UVShield Mattifying Gel Cream SPF 45 Pa++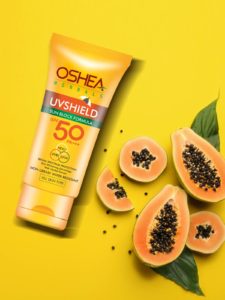 Exfoliate frequently
Exfoliation is on the high priority list for summer. Wipe out the excess oil and dirt from your face using an exfoliating scrub twice a week. Exfoliation is a scientific way of weakening the possibilities of acne and pimples. While you remove the unwanted dirt particles from your face, your skin pores remain free to breathe. Start exfoliating once the summer creeps in. We recommend Oshea Herbals Papayaclean scrub, Radiance D-Tan Scrub.
Random suggestions
So, coming to the last section of this blog, we are going to give you some random suggestions for summer skincare.
Try avoiding heavy makeup during summer. Light makeup gives your face a refreshing aura.

Toning is an important part of the skincare regimen. Toners are cool and soothe your skin.

Enrich your diet more with fruits, vegetables, and revitalizing drinks. This will help you hydrate and boost your metabolism.

Take good care of your lips, eyes, and hair too.

Have faith in homemade face masks to make your skin luminous and glowing.
Visit our Oshea Herbals website for natural products made with Ayurvedic boons. Summer is here and so are your summer care tips. Keep reading with us, keep glowing eternally. Wish you happy summer months ahead.