The Ultimate Sunscreen Guide:
Want to take a break from the scorching summer heat yet enjoy the sun on the beach? Don't worry. We are here to guide you with the ultimate sunscreen guide. Sunscreens can work as a shield to protect your skin against strong UV rays. Even dermatologists recommend that applying sunscreen lotions might enhance the durability of your skin to embrace radiant sunshine. So relish the flavors of summer to the fullest!!!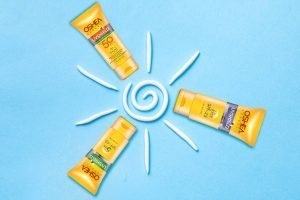 FACTORS TO REMEMBER BEFORE YOU BUY A SUNSCREEN 
Usually, when we go out in the sun, we never bother to think about the consequences these harmful rays can affect us with. The two types of skin-damaging UV rays – UVA (ULTRAVIOLET A) and UVB (ULTRAVIOLET B) which have been acknowledged for causing skin cancer, premature aging, facial spots, and wrinkles, cataracts, and other eye diseases. So, while we set our minds to purchase sunscreen, the following points must receive our attention.
SPF – SUN PROTECTION FACTOR or SPF is a measurement that reveals how much it can protect you from sunburn. To clarify more, SPF 15 protects against 93 percent of UVB rays while an SPF 30 protects against 97 percent of UVB rays.
PHYSICAL / CHEMICAL SUNSCREENS – Sunscreens are of two types. Physical sunscreens are mostly suitable for those with sensitive skin. The ingredients included in physical sunscreens are Zinc Oxide and Titanium Oxide as approved by FDA. Chemical sunscreens are mostly an accumulation of oxybenzone, avobenzone, and homosalate. Chemical sunscreens do not form a layer on the skin. They creep into your skin and absorb the UV rays like sponges.
The Ultimate Sunscreen Guide:
WHEN SHOULD YOU APPLY SUNSCREEN?
People have vague conceptions regarding the application of sunscreen lotions. It is important to understand that sunscreens do not provide us only with 'sun time benefits'. Rather you should use sunscreens even on a cloudy morning, during heavy monsoon, or on a winter dawn. When you are staying indoors, you might assume that there is no scope for you to come in contact with UV rays, but you are mistaken. Even while watering flowers, your skin can be threatened.
FACE / BODY SUNSCREENS
 The face is the most sensitive part of the body. So, many tend to purchase some lightweight, non-sticky lotions made exclusively to apply on faces. The exposed parts of your body will certainly need nourishment and protection from direct sun rays. It is suggested that you rather buy a combo pack of the face and body sunscreen and invest in preserving your beauty. 
SUGGESTED SUNSCREEN
 There are innumerable beauty products being sold in the market but very few of them can bring genuine distinction to your skin. Oshea Herbals UVSHIELD SPF 50 Sun Block Cream prevents sunburn, tanning, pigmentation and hydrates the skin amply. It is an amalgam of Papaya and Green Tea Extract which results in skin whitening and brings radiance to the skin.