Summer is Here and so is the Need for Sunscreen – Here's Why?
As we move into the summer months, it's more important than ever to remember your sunscreen every day. The depletion of the ozone layer and the scorching heat on our skin has been risked in many ways. Sunscreen becomes the saviour in these situations by blocking those UV rays and is considered to be one's best friend in the summer days.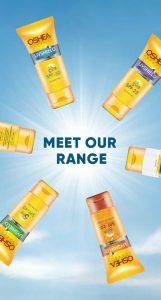 Summer is Here and so is the Need for Sunscreen: Let's look at the why's of sunscreen:
Keeps Face's Complexion Even
Summer is here and so is the Need for Sunscreen. Using sunscreen on your face helps to keep your complexion even as it is. Sun damage is one of the many causes of uneven skin tones and daily sun creams help to prevent those effects on one's face.
Sun Protection
The most obvious and useful benefits of sunscreen are that it protects your skin against the sun's broad range of harmful UV rays. It has been noted that sunscreen actually minimizes the penetration
of UV rays into the skin and thus triggering a variety of skin disorders. Even the mildest of sunburns can have damaging effects so it is important for you to protect your skin.
Helps to Protect Against the Visible Signs of Premature Aging
Summer is Here and so is the Need for Sunscreen. Who wouldn't want youthful, radiant, and healthy-looking skin? But overexposure to sunlight can increase the appearance of fine lines and wrinkles on one's face. In other words, using sunscreen can actually, help in fighting against the harmful effects of premature ageing.
Decreasing the risk of skin Cancer
The ultimate reason you should prioritize wearing sunscreen is that it helps to protect you from developing skin cancer. Daily SPF use, even if it is cloudy or raining, can help protect your skin from harmful rays that lead to cancer. Sunscreen blocks the unwanted rays from entering.
In today's market, there is a wide range of options out there, but the wrong sunscreen choice can make oily skin feel greasier or make dry or sensitive skins might feel even more irritated. Most people fear the thought of wearing sunscreen every day. The main worrying factor for people is that the sunscreen lotions will cause breakouts, make their skin appear oily, and worst of all they will smell like oily sunscreen all day!
Thankfully, skin care products by Oshea Herbals have come a long way to give everyone a chance, you won't need to apply those old oily sunscreens every day to achieve the actual need for sunscreen use. The type of product you use will depend on the time duration you plan to spend out in the sun and the activities you'll be doing.
We, at OSHEA HERBALS, have a wide range of sunscreen products for one to choose from:
Remember, Summer is here and so is the Need for Sunscreen, so sunscreen should be applied every two hours, every day, regardless of whether you'll be spending most of your time inside or out. You should also pair it with Oshea Herbals' PapayaClean Anti Blemishes Serum, which can help combat exposure to free radicals and ultraviolet light, slow the signs of ageing and brighten your complexion