Aloe vera is a natural herb that has been used for its cosmetic properties for years. This is justified because there are several benefits that aloe vera can help you with. The natural herb is rich in nutrients, and minerals– which make it one of the most effective ingredients for the skin.  
Moreover, the herb is rich in certain compounds that are highly beneficial for skin cells and help your skin become brighter and glowing. Let us explore how to use aloe vera for skin whitening and how it can affect the health of your skin. 
What is Aloe Vera Gel?
The jelly-like substance that you see inside the triangular thorny aloe vera leaves is called the aloe vera gel. The benefits of aloe vera are sourced from its gel only. It has been used for its healing properties for years. Aloe vera gel has made its identity as an effective medicine for many diseases including skin disorders and constipation. 
Also Read: 10 Tips To Obtain Naturally Glowing Skin
Benefits of Aloe Vera for Skin Whitening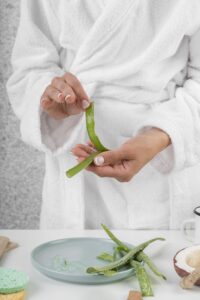 You must have heard of the incredible benefits of Aloe Vera for the skin. However, there is more to the benefits of this herb than you know: 
1. Reduces Ageing Effects
Signs of ageing such as wrinkles, fine lines, and sagging skin in the neck and around the face become more pronounced with time. For relief, try applying some aloe vera gel. It restores the skin's radiance and moisture balance. 
Not only does it lessen the appearance of fine lines and wrinkles on the face, but it also delays the skin's natural ageing process by restoring its elasticity and restoring damaged skin cells. 
Also Read: How to Use Honey for Skin Whitening?
2. Moisturises the Skin
When applied to the skin, Aloe Vera effectively hydrates without making your skin greasy because it contains 95% water. Aloe vera also has glue-like properties that cause the skin's outermost layer of cells to stick to one another, thereby retaining the moisture in the skin. It results in smoother and softer skin. 
The soothing properties of Aloe Vera make it a great moisturizer for all skin types, including sensitive and oily skin. Don't forget to use Aloe Vera if you're looking for a lightweight moisturizer for the dry winter or summer months. 
3. Soothes Sunburn 
Aloe vera is so effective at relieving sunburn as it quickly affects the outer layer of the skin. Aloe vera helps the skin retain its natural moisture and acts as a barrier against environmental harm. 
Research indicates that the anti-inflammatory properties of the plant's active ingredient, aloin, cure the peeling that can result from sunburns. Those who have experienced sunburn or the appearance of dark spots on their skin due to exposure to the sun can find relief by using aloe vera gel. 
Also Read: How to Use Coffee for Skin Whitening?
4. Provides Gentle Exfoliation
To get rid of dull skin, try exfoliating using Aloe Vera gel as it contains salicylic acid. With the help of the lignin content of Aloe Vera, the penetration of other ingredients gets enhanced and they are absorbed by the skin more effectively. 
5. Acts as a Skin Cleanser
Due to aloe vera's antibacterial anti-inflammatory and antioxidant properties, it can be used as a cleanser. Simply wash your hands and apply the gel on your face in a circular motion. Wash with cold water. 
Also Read: Top 8 Sensitive Skin Care Tips For Summer
6. Fights Acne 
Aloe vera has anti-bacterial properties that can help fight the bacteria causing acne. Using this in conjunction with other powerful ingredients like cinnamon and honey, you can get the best results for avoiding acne. 
So if you ask does aloe vera lightens skin- the answer is yes! By reducing the spots due to acne, it results in lighter skin.  
7. Relieves Skin Irritation
Aloe vera has two plant hormones- gibberellins, and auxin. These hormones help in the natural healing process and exude soothing effects. Hence, these hormones can relieve skin irritation by promoting cell replication. 
8. Fights Dark Spots & Puffiness Under the Eyes 
Aloe vera has cooling effects and has powerful components including antioxidants and Vitamin E. Hence, it can reduce puffiness and dark spots around the eyes and also fight lines and wrinkles. 
Also Read: How To Get Glowing Skin: The Right Way Of Skincare
How to Use Aloe Vera for Skin Brightening at Home?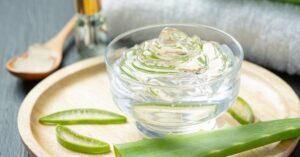 Now that you know the incredible benefits of Aloe Vera, it's time to incorporate it into your skincare regime. Let's learn how to make easy aloe vera face packs at home. 
1. Aloe Vera and Cucumber Face Pack
This face pack works well to turn dull skin into healthy and glowing.  
Blend one sliced cucumber 

Mix one tablespoon of aloe vera and one tablespoon of honey in cucumber

Apply the mixture thoroughly on your face

Let it stay for 20 minutes

Rinse with lukewarm water
2. Aloe Vera and Turmeric Powder Face Pack
This is an effective face mask for skin whitening and helps you get back that glow. 
Mix one tablespoon of aloe vera gel with one tablespoon of turmeric powder

Then mix one tablespoon of honey

Apply thoroughly on your skin 

Wait for 20 minutes and rinse with cold water 
3. Aloe Vera & Vitamin E Face Mask 
Get moisture and hydration from aloe vera gel along with the benefits of Vitamin E. 
Mix one tablespoon of aloe vera gel with Vitamin E oil

Apply it on your face thoroughly and wait for 30 minutes

Rinse with cold water. 
Also Read: 6 Essential Summer Beauty Products for Healthy and Glowing Skin
4. Aloe vera Gel and Tea Tree Oil Face Mask
This face pack is perfect for getting rid of acne-prone and oily skin. 
Use 2-3 drops of tea tree oil and mix it with 2 tablespoons of aloe vera gel. Add 1 tablespoon of water. 

Use this on your face and wait for 15-20 minutes. Wash it with cold water after a while. 
5. Aloe vera and Honey Face Mask
Honey is one effective ingredient for skin that has healing benefits, skin moisturisation properties, lightening benefits, and more. Using honey with aloe vera can result in hydrated and soft skin. 
Mix 1 tbsp of honey with 2 tbsp of aloe vera gel and mash one overripe banana in it. 

Make a smooth paste and apply this all over your face.

Let it sit for 25-30 minutes

Wash with cold water. 
Side Effects of Aloe Vera For Skin
Some people might be allergic to aloe vera if they use it topically. It might irritate their skin or may cause redness, swelling, or rashes on the skin in rare cases. You should stop using aloe vera immediately if signs like these appear. Also, avoid using aloe vera on infected skin as it might interrupt the healing process. 
Summing Up
Aloe Vera gel is one of the potent ingredients in the ayurvedic medicinal family. You can take out the gel from the aloe vera leaves and prepare a pack at home for brightening skin. This plant has all the properties that make it highly suitable for healthier and glowing skin. 
Frequently Asked Questions
1. Does aloe vera lighten or darken skin?
Aloe Vera is a herb rich in nutrients, and it nourishes your skin from within. It has cooling properties and hence helps to heal sunburns, resulting in glowing skin. You can use it at home for skin lightening. 
2. Can I apply aloe vera on the face every day?
Aloe vera has skin-brightening properties and it even results in moisturized skin. Its cooling properties also help to treat acne. Hence, there is no harm in using this herb every day on your face. 
3. Is aloe vera good for skin whitening?
Aloe vera is often associated with skin health, but its primary function lies in moisturizing, soothing, and healing. It can help improve skin texture and reduce dark spots, which some people may connect with the idea of aloe vera gel for skin whitening. However, it's important to note that it doesn't drastically change skin color.
Disclaimer: This article has been written after thorough research and is based on the resources available on the internet. It is still advisable to contact a dermatologist before using any mask or recipe.
Shweta Gupta, a digital marketing executive with over 4 years of experience, is also a passionate content writer specializing in skincare and beauty. Her engaging content serves as a guide to help readers choose the right products for achieving healthy, radiant skin. With expertise in both digital strategy and beauty, Shweta is a trusted authority in the field of skincare and wellness, offering valuable insights and recommendations for her dedicated audience.