Using a face scrub can have a number of benefits on the skin. Apart from cleansing and moisturizing, scrubbing is one thing that is also an important part of skincare. 
A facial scrub cleanses the skin differently from soap and cleansers. It uses small particles, chemicals, or beads to remove dead skin cells. It also helps to grow the new skin cells.
The process of skin exfoliation is simple as you only need to choose the right product according to your skin type. Use it on damp skin and massage the skin to get rid of the impurities and dead cells. 
However, the way you use it makes a huge difference in the results. Exfoliating more than needed can lead to redness on the skin and even cause itchiness. 
Read this blog to learn how to use a face scrub and more. 
What is a Face Scrub?
A face scrub is a cleansing product that is used to exfoliate the skin. A scrub has small particles that work to open the clogged pores and remove the dirt accumulated. Face scrub helps the skin to better absorb the skin care products and helps in deep cleansing. 
Steps of Facial Scrub
Using a face scrub is quite simple. However, people still make some mistakes while exfoliating the skin. Read below to read the steps of how to apply face scrub. 
Step 1: Cleanse
Before you scrub your face, it is important to cleanse it to get rid of any makeup or dirt. You can use a mild cleanser to clean the excess oil, debris, or dirt. It prepares the skin for exfoliation. This will make sure that you are exfoliating a clean base.
Also Read:  Top 5 Benefits Of Scrubbing

Step 2: Use The Right Amount
Take a small amount of your face scrub on your hands and rub it on your palm. Add a few drops of water to make the mixture a little smooth. Applying it dry can be harsh on the skin.
Step 3:  Apply it on Your Face
As you rub the scrub between your palms, the next step is to apply it to your face. Use the scrub thoroughly on your face. Also, it is important to wet your face before face scrubbing even if your hands are wet. 
Step 4: Massage Appropriately 
Use the tips of your fingers to gently massage the scrub onto your face in circular motions for approximately 45 seconds. It's important to avoid vigorously rubbing the product into your skin, as this can cause small tears and damage your skin.
Be cautious not to apply the scrub near the sensitive under-eye area or the mouth. These areas require extra care and attention.
Step 5: Rinse
When you are done face scrubbing, wash the face with lukewarm water. Pat dry the face with a towel and avoid rubbing. 
Also Read:  Benefits of Lemon for Face & Ways To Use It

Step 6: Use a Moisturiser 
This is the last step of exfoliation. Make sure to moisturize your skin after washing the scrub. This will keep your skin moisturized, plump, well-hydrated, and supple. The skin will absorb the moisturizer better when your face is moisturized well.
Things to Keep in Mind While Using Facial Scrub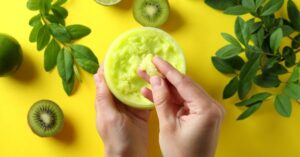 It is usually a simple step to scrub your face, but small mistakes like over-exfoliation can harm your skin. Here are some tips you should remember:
1. Cleanse Before Exfoliation
Cleansing should always be the first step in your face care routine. Before facial scrubbing, prepare your skin for it by removing the excess oil and dirt. 
2. Be Gentle With Your Skin
While using your scrub, make sure that you massage gently. It opens the clogged pores and removes the dead skin cells. Use a gentle and effective scrub for dirt and dead cells without making the skin dry. 
Also Read:  5 Benefits Caffeine Offers For Your Skin

3. Exfoliate The Skin At Night
It is recommended to exfoliate the skin at night. After facial scrubbing, the skin revealed is fresh and sensitive. Hence, the harsh sunlight can cause damage to the skin if you step out right after exfoliation.
4. Moisturize Always
Using a moisturizer is always important after treating the skin. It will nourish the skin and protect the exfoliation you have done on your face. 
5. Use Face Scrub According to Skin Type
Always use a face scrub according to your skin type. It will make sure that your skin is perfectly exfoliated without intensifying your skin concerns. 
6. Do Not Over Exfoliate
Keep in mind that you do not exfoliate the skin more than needed. It can damage the skin's protective layer and can also cause redness, dryness, and irritation. 
7. Do Not Scrub if it Irritates Your Skin 
If the scrub irritates you after exfoliation, stop using the product immediately. 
Also Read:  13 Beauty Benefits of Using Ice Cubes On Face

Benefits Of Face Scrubs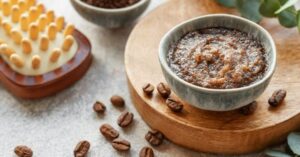 1. Unclogging pores: Regular uses of face scrub can help to remove dirt, oil, and other impurities from your pores.
2. Boosting radiance: Face scrubs can help brighten and enhance the natural glow of your skin by removing dead skin cells.
3. Promoting even skin tone: Face scrubs can help to even out skin tone by sloughing away dead skin cells that can cause hyperpigmentation or dark spots.
4. Enhancing product absorption: By removing dead skin cells and promoting cell turnover, face scrubs can help your skin absorb other skincare products more effectively, making them more beneficial for your skin.
5. Stimulating collagen production: The massaging motion of using a face scrub can help stimulate collagen production, leading to plumper, firmer skin over time.
6. Promoting relaxation: Frequent uses of face scrub can be a pampering and relaxing experience that can help to relieve stress and tension, leaving you feeling refreshed and rejuvenated.
Also Read:  7 Benefits of Masoor Dal For Skin & DIY Face Packs

Use Oshea Herbals Face Scrubs for Skin Whitening
It is important that you choose face scrubs that suit your skin type. Oshea Herbals has a range of face scrubs with natural ingredients. Hence these scrubs are ideal to be used on any skin type as they do not pose any harm. 
You can choose from a range of face scrubs including Aprifresh Apricot Scrub, Glopure Scrub, Papayaclean Scrub, and more. Their scrubs are really effective for glowing skin, tan removal, and fighting accumulated dirt. 
Concluding
Face scrubs are really effective in fighting dirt accumulation on the face. If you use the scrubs the right way, they can be really effective in boosting skin health. Follow these tips when exfoliating the skin. 
Frequently Asked Questions
1. When To Use Scrub On Face?
It is recommended to scrub your face twice a week. But when you exfoliate, consider doing it at night. Stepping out in the sun after exfoliation can harm the skin as it is sensitive at that time. 
2. How To Apply Scrub On Face?
Cleanse your face and take out a small amount of scrub on the face. Remember to use some drops of water to mix with the scrub. Also, consider scrubbing on a wet face for better exfoliation. 
3. What To Apply After Scrub?
After using the scrub, use moisturizer to hydrate and nourish the skin properly. As the clogs are open, your skin will absorb the moisture more accurately. 
4. When To Apply Scrub On Face?
Use a scrub at night as it will protect your fresh skin. Scrubbing during the day may affect your skin as the fresh skin layer may be sensitive to sunlight. 
5. Should I Use Face Wash After Scrub?
It is generally recommended to scrub after cleansing. Washing the face before scrubbing prepares the skin for exfoliation and removes the accumulated dirt and debris. 
6. What To Do After Scrubbing Face?
After scrubbing, you should always moisturize. Use a hydrating moisturizer to nourish and protect the skin well. You may also cover the skin with SPF to protect it against sunlight. 
7. Are Scrubs Good For Your Face?
Yes, scrubs are really good for the skin as they help to deep clean the pores that normal cleansers can't do. They are helpful in removing dead skin cells and removing any debris that is still left after face wash.
8. Are Face Scrubs Good For Your Skin?
Yes, scrubs can promote glowing and healthy skin as they deeply exfoliate the skin. Some scrubs can also help to remove sun tan and provide a natural glow. 
Disclaimer: This article has been written after thorough research and is based on the resources available on the internet. It is still advisable to contact a dermatologist before using any mask or recipe.
Shweta Gupta, a digital marketing executive with over 4 years of experience, is also a passionate content writer specializing in skincare and beauty. Her engaging content serves as a guide to help readers choose the right products for achieving healthy, radiant skin. With expertise in both digital strategy and beauty, Shweta is a trusted authority in the field of skincare and wellness, offering valuable insights and recommendations for her dedicated audience.