Knock. Who's there? SUMMER!  Yes, ladies, the summer has already started and along with that the season also brings various skin problems like sunburn, itching, dryness & irritated skin. Adding to it, the pollution and dust particles take away our natural skin radiance while making it look dehydrated, dry, and dull. That's why today we will talk about Body Butter which is the perfect solution for dry skin.   Dry skin is one of the main problems of the skin. There are so many people who are suffering from these problems and are actually looking for a fix. The problem lies in the fact that their skin does not look fresh and smooth. This happens because their skin has lost its natural moisture which makes it look dull and exhausted. There are several reasons for having dry and dull skin. The harsh and chemical-based products also contribute to these reasons. One should always choose products that are chemical-free and specially curated for dry skin. In this post, we are going to tell you about an ingredient, body butter which naturally deals with dryness and perfect for people. So keep reading and enjoy!
What is Body Butter?
Body Butter is one of the best ways to nourish your skin. It can be the Best Moisturizer For Dry Skin which deeply nourishes your skin to recover from dull skin. It is thicker than lotions which mostly contain Shea Butter, Vitamin E, Cocoa Butter, and other skin rejuvenating ingredients. It soothes dry skin and provides moisture and maintains the softness on the skin.
Also Read:  10 Surprising Benefits Of Body Butter For Your Skin
Why Body Butter is Good for the Skin?
It contains the power of butter which is an ideal beauty ingredient that makes your skin soft and shiny. It also contains essential oil like Vitamin E which moisturizes your skin and also heals various skin problems. It easily gets absorbs in the skin and provides nutrients to the skin cells. It even helps to avert your skin from dullness and itching. If you are still not satisfied with their benefits lets discuss further.
Benefits Of Shea Body Butter
Shea Butter has a thick consistency and solid at room temperature which is a rich source of Fatty Acid and Vitamin A and E. It comes from the seeds of the Shea tree in West Africa which is also known as the Karite tree. It is widely used in many beauty products like moisturizers, creams, and lotions. Fatty acid makes it an excellent skin moisturizer which makes your skin soft and beautiful. It also has anti-inflammatory and healing properties which help to fight with various skin problems. It also protects your skin from the harmful effects of UV rays of the Sun.
Also Read:  Cocoa Butter & Honey – The Ideal Combination for Keeping Your Skin Moist

Benefits Of Cocoa Body Butter
Cocoa Butter comes from the beans of the cocoa plant. It also contains fatty acid which nourishes your skin and provides nourishment to the skin. It helps to remove scars and wrinkles from and make a youthful skin.   Thanks to Oshea Herbals Cocoa Body Butter which deeply nourishes, moisturizes, and hydrates the skin in an instant. This naturally instates the natural moisture and reconditions the skin making it look younger and better. This works perfectly to revamp skin health.   We would like to recommend you use good quality of Body Butter as it shall help your skin to keep hydrated, soft, and healthy. It is one of the best solutions for dry skin people and trust us, you guys will love it.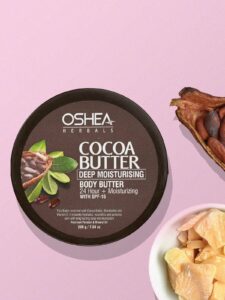 Also Read:  Oshea Body Butter: What Makes Them Different From The Others?

PRO TIP:   Please apply your Body Butter immediately after the bath for the best results on your skin.
I hope you like this article. Thanks!
Shweta Gupta, a digital marketing executive with over 4 years of experience, is also a passionate content writer specializing in skincare and beauty. Her engaging content serves as a guide to help readers choose the right products for achieving healthy, radiant skin. With expertise in both digital strategy and beauty, Shweta is a trusted authority in the field of skincare and wellness, offering valuable insights and recommendations for her dedicated audience.