Use our Papaya facial kit:
The love week is here and we are bubbling with giddiness from an overdose of love. We are not up for the same flowers and chocolates, instead, we are going full swing for self-care skincare goodies.
But while preparing for your perfect evening, have you also kept a check on your skincare regime? Now, we may have bid adieu to the chilly season (winters), but our skin hasn't. So try this Valentine's Day special Papaya facial routine a:nd you will not be sorry.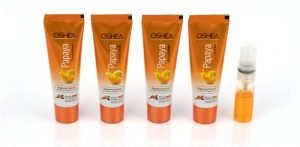 What is in the box? Use our Papaya facial kit
Papaya Cleansing Cream: This cream contains a good source of Vitamin A and Papain, Licorice, Curcuma longa and aloe vera which help in removing dead cells along with breaking down the inactive proteins. Thus it leaves the skin super soft and radiant.
Papaya Exfoliating Scrub: Enriched with the goodness of papaya extract, lemon extract, lactic acid and allantoin, this formulation gently removes the dead cell of facial skin. It improves the skin complexion and lightens the patches.
Papaya Massage Cream: This is a rich composition of papaya extract, almond oil, apricot kernel oil and Vitamin E. It improves the skin complexion and nourishes it with all necessary mineral and vitamins.
Papaya Face Pack: This formulation contains Papaya extract, Licorice extract, Tomato extract, sphatika and honey, this combination not only tighten the skin pores but removes blemishes, dark spot, evens skin tone and brings a glow to the skin.
Papayaclean Serum: It contains multi-vitamins, scientifically developed and formulated to provide moisturization, fairness and glow. Prevents wrinkles and fine lines on the skin leaving the skin smooth, healthy and supple. Also helps to repair the damaged skin cells caused by UV rays, pollution and dirt.
How to use?
Apply papaya cleansing cream on the face and neck and massage gently in a circular motion for 5 minutes. Wash off with fresh water and pat dry.
Apply papaya scrub on the face and neck and massage gently in a circular direction for 5-10 minutes. Wash off with fresh water and pat dry.
Apply the massage cream all over the face and neck. Massage for 15-20 minutes in a circular motion with firm upward and outward strokes. Massage until the cream gets absorbed by the skin.
Apply a thick layer of papaya face pack all over the face and neck. Leave it until it dries up. Rinse off with fresh water.
Apply a few drops of papaya serum on your face and tap gently with your fingertips until it gets absorbed. The tapping action encourages the serum to sink fully into the deeper layers of the skin as far as it is able to go.
What more, you can now get your impeccable skin and your glow on and doll up in town for your perfect night. Use our Papaya facial kit and get ready for that glowing skin to take over. With our Papaya facial kit you don't have to worry a bit. Prep your skin before your date night and you're good to glow.
We recommend you to try its exclusive collection of Papaya enriched products including Papaya Face Wash for reducing blemishes, Papaya Face Pack, Papaya wipes, papayaclean anti-blemish cream, papayaclean anti-blemishes gel, papayaclean anti-blemishes serum.