Our rushed schedule does not allow us the time to give our skin the right care. However, it needs some care to deal with dryness, acne, tanned skin, ageing signs, etc. 
Ubtan is one of the common ingredients for skin care in Indian houses. It is also majorly used as traditional skincare for brides during wedding rituals. 
If you are a skincare geek and really pay attention to what you use on the skin, Ubtan is something you must try. It is one of the organic products that help to improve the health of your skin naturally.
 In this article, we will explore the benefits of Ubtan and why this has to be in your skincare collection. 
What is Ubtan?
Ubtan is a herbal pack, which is a mixture of besan (Gram Flour), sandalwood, turmeric, and flowers. This powder is mixed with rose water, milk or curd to be used as a face pack.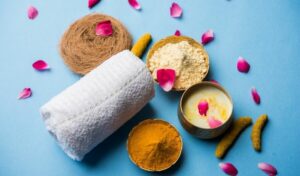 Ubtan can be massaged all over the body to properly clean and exfoliate the skin. This herbal powder has been used as a cleanser for many years. 
Before the invention of soap, and other artificial cleansers, people used Ubtan to take care of their skin. Although Ubtan is very popular among people, note that there are many things that Ubtan can be made of. But the ingredients of milk, saffron, rose water, and turmeric are constant.
Also Read: The Role of Haldi Ubtan in Pre-Wedding Rituals
9 Major Benefits of Ubtan
1. Reduces Early Signs Of Ageing
Using Ubtan can help in delaying the signs of ageing. With the help of its anti-ageing and anti-bacterial properties, it helps to make your skin more elastic, toned, and look young. 
2. Reduces The Occurrence Of Acne And Pimples
Ubtan also helps to reduce the appearance of dark spots and acne marks caused by UV rays. This natural element helps to eliminate the long skincare processes and achieve a better glow. 
Its ingredients- turmeric and saffron are rich in anti-fungal and antioxidant properties. This is why it is considered highly for its acne-defeating properties. 
Also Read: 3 Ayurvedic Ubtan Recipes For Glowing Skin
3. Gives Flawless Skin
Ubtan is well known for minimizing blemishes, pigmentation, dark spots, and other imperfections. These damages are caused by frequent exposure to the sun. Hence, it also helps to avoid tanning and provides a better complexion. You can use this powder with two to three drops of lime juice to add bleaching effects. 
4. Acts As A Cooling Agent
The two ingredients, rosewater, and sandalwood have potent antioxidant properties that protect the skin from UV rays and hence provide a cooling effect. 
5. Treats Oily And Dry Skin
All the ingredients of Ubtan work to absorb excess oil from the skin and lock in moisture. Plus, it contains a high level of vitamins and minerals that promote the regeneration of the cells. 
6. Tightens Skin Pores
One component of Ubtan- sandalwood- helps to make the skin tight by tightening the pores. Ubtan is an astringent and hence it provides the skin with a taut appearance. 
Also Read: Top 5 Tan Removing Formula
7. Exfoliates Dead Skin
Ubtan exfoliates dead skin cells to give the skin a better glow. It removes dullness by getting rid of dead skin.
8. Removes Facial Hair 
This skincare agent also helps to remove facial hair and ingrown hair. Scrubbing with Ubtan in a circular motion can assist in removing the facial hair. 
9. Nourishes The Skin
The ingredients in Ubtan add radiance to the skin and nourishes it deeply. It fights dead skin cells and also removes tan. Ubtan can act as a great replacement to chemical-based products. Rose water and sandalwood help to brighten the skin along with a pleasant scent. 
Basic Ubtan Recipe
The basic recipe of ubtan includes 4 main ingredients including:
Turmeric

Gram Flour

Sandalwood Powder

Rose Water
Process:
Take 2 tbsp of gram flour and add a pinch of turmeric powder.

Put 1 tbsp of sandalwood powder. 

Pour 2 tbsp of rose water to make a smooth paste. 

You can use it throughout your face and neck. 

If the ubtan is left, you can save it for later. Just pour some plain water to wet the dried mixture and you can use it again.
Also Read: D-Tan Range – Ideal for Tan removal
How to Include Ubtan in Your Skincare?
You can also make basic Ubtan at home. But if you are too busy to prepare ubtan at home then you can use Ubtan Face Mask, Face Wash, or Face Scrub available in the market. This way you can easily incorporate Ubtan into your skincare routine. 
You can follow a complete skincare routine with their products. Follow these simple steps:
Cleanse your face with

Ubtan face wash
Exfoliate the dead skin cells and open the clogged pores with the Ubtan face scrub. 

Follow up with the Ubtan face mask and rinse with cold water. 
Make sure to moisturize your skin after the complete routine. 
Also Read: 5 Amazing Benefits Of Skin Toning
Conclusion 
Ubtan benefits your skin majorly. It may be one of the products that your skincare is missing. Use this natural formula frequently and achieve healthy and glowing skin that other chemicals cannot offer. 
Frequently Asked Questions
1. Can Ubtan be used daily?
Yes. Since Ubtan is made with all-natural ingredients, there is no harm in using it every day. You can use it every day as a cleanser, scrub, or face mask. 
2. Does Ubtan remove tan?
Ubtan is certainly known to be effective in removing tan as it protects the skin from the effects of UV rays. Its components have antioxidant properties that prevent tanning and provide a natural glow to the skin. 
3. Does Ubtan lighten skin?
Yes. The components of Ubtan reduce dark spots, prevent sunburns and make the skin even-toned, making it lighter and brighter. 
Disclaimer: This article has been written after thorough research and is based on the resources available on the internet. It is still advisable to contact a dermatologist before using any mask or recipe.
Shweta Gupta, a digital marketing executive with over 4 years of experience, is also a passionate content writer specializing in skincare and beauty. Her engaging content serves as a guide to help readers choose the right products for achieving healthy, radiant skin. With expertise in both digital strategy and beauty, Shweta is a trusted authority in the field of skincare and wellness, offering valuable insights and recommendations for her dedicated audience.