Flaunt out your Diva look with the color look book guide of Oshea
Let's get united this festive season! Whether you're going to celebrate indoors or party out we've unlocked 9 beautiful colors for all your 9day makeup looks. Time to let your nail art do the talking. Just whirl, twirl, and dazzle with each stroke.
9 Day Makeup Looks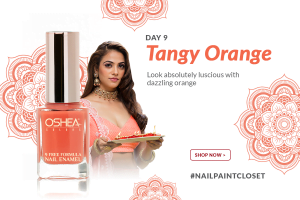 The Oshea Nail Paints range is inspired by the fluid movements of nature. The nail paints are super long-wear and come with a perfect gloss. One coat of application is all you need for picture-perfect and super trendy looking nails.
Leave everyone awestruck because you can't compromise the way you look, always flawless.